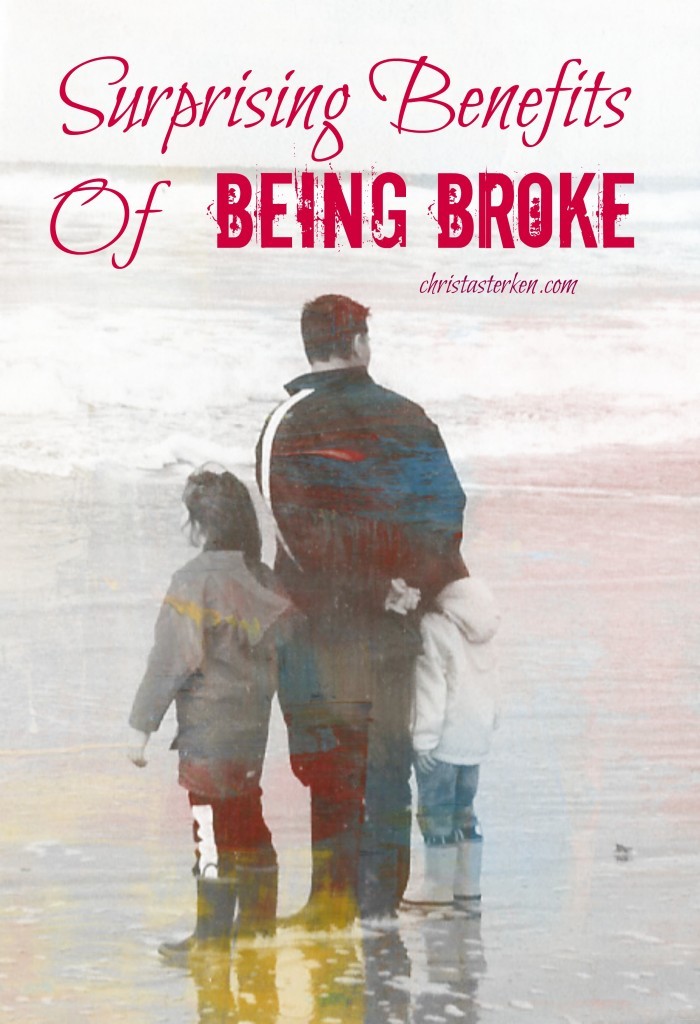 Are you strapped financially?
That has always been us too. A change is happening that for the first time gives us hope for a small cushion, a tool to combat debt.
But, money really can't buy happiness. Not in the ways that matter..
There might be a few surprising benefits to being broke.
Hear me out… few of us would CHOOSE broke, but when we are there?
With close consideration we can find a few gems in the seasons of "not enough". Extra money can cause false security.  I am in no way downplaying the difficulties of hard times, but instead suggesting ways to look for the spark of hope in the darkness.
Necessity forces creativity- Small amounts of income can develop resourcefulness. A spirit of making things work with what you have. Being broke and living broke don't have to be the same thing. Having a nice home that felt comfortable to us, to our guests, has always been important to me. I learned to do that with very few dollars or none at all. Be creative, and make your house a home no matter what your resources are. My mom used to tease me that I created a home faster than anyone she'd ever seen. Each move sharpened that skill and gave me the ability to nest like the best, without the cost.
Unexpected Provision- God will provide, cliché? Listen, we've had utility shut offs, no food, no job but yet…yet, here we are. We made it, you will too.  Provision comes in a million ways we can't see until later. There are bits and pieces of help around us that form a net of safety. It doesn't feel like that when we are falling, but it doesn't mean the net isn't being built.
Value of together- When you are scared of losing it all, you become better at evaluating what is yours, truly yours, that can't be taken away.  When we worried about losing "it all", it being material things really, in desperation we learned to dig our heels in and claim our life back. Practice saying "No matter if we lost _______, they can't take ________ away". For us, we knew that regardless of circumstances, they couldn't take away the joy in our family. That was ours to keep, and we fought for that. Me and my man? Us and our kids? No bill collector can take that away.
When you got nothin'- You realize you have God. Always, right there with you. And that is a big something! He goes before you and follows behind. We didn't always see this, though we believed in God. We had to hit rock bottom to realize He'd been there all along. And that He really was what we needed most.
Make the most of what you DO have- What do you think of when you read the word Goodwill? If I'd never  been broke it is doubtful I would have ventured into a thrift store. There in excellent chance of finding clothes for your kids, a table for your kitchen, books for your shelf…anything necessary can be found cheap. Even better than cheap? Free. If you came to my house you'd feel comfortable, and if you made the mistake of saying how nice something is, I might  get a passionate fire in my eyes and corner you with stories of how I got if free and redid this or that. And how about our true necessities? Are your kids healthy tonight? Are their stomachs full? Do you have heat and water? The lower our spirits, the harder we need to search for the stuff that really meets our basic and most necessary needs. And then, live in gratitude. This alone can change the way we see our entire set of circumstances!
Avoid borrowing-  When money is tight, the temptation is there to just charge things. Make payments. Sometimes there really seems to be no other choice. Use caution, the terms might be greater than they seem today. We are servants today to lenders of yesterday, and it hurts. Really bad. Proverbs 22:7 The rich rule over the poor, and the borrower is servant to the lender.
Been there, coveted that, got the t-shirt- Listen, please. We've been there. Been there. Can I share a small piece of wisdom here? Stop thinking So and So has it all together. That their lives are easy while we struggle unfairly.  Easier? Perhaps…but maybe not like it seems. If we spend time cultivating our own lives, we enjoy it infinitely more than wishing it were like someone else's.