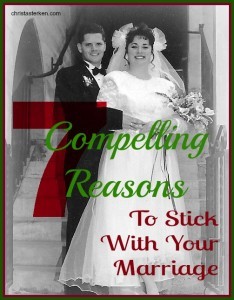 Marriage is hard.
There are days when we don't like each other. Not even a tiny bit. When just our mates breathing and taking up space is annoying.
We've become a society that believes if we aren't happy, cut our losses. That attitude can lead us to chase imaginary perfection. We lose. (tweet)
If I had cut my losses during times of marital strife, well, my life would be less rich. Marriage is full of expectations. Dreams of fulfillment and joy.  It takes hard, sometimes intense, effort to make it beautiful.
In my marriage there have been times when I wasn't happy. Neither was my husband. Yet we didn't give up. We didn't allow ourselves to dwell on the idea, period. Trouble might have tricked us into thinking giving up would be easier.
We have been together since our teen years. It is not for sissies to grow up into mature, selfless (mostly, working on that) adults. Immaturity is taxing. Maturity is elusive when  we revisit the same old problems.
And isn't that it? Usually the same old things? For us, for most people we know, the roots of marital issues run deep. If you are at a fork in the road-Don't give up.
The rewards for digging in can be something beautiful, almost indescribable. Here is what I know about sticking with it: [Read more...]