You know what I'm talking about, don't you? Holidays crowded around the table with a card or coffee table set up for the kids…
Did you dream of making it to the grown up table?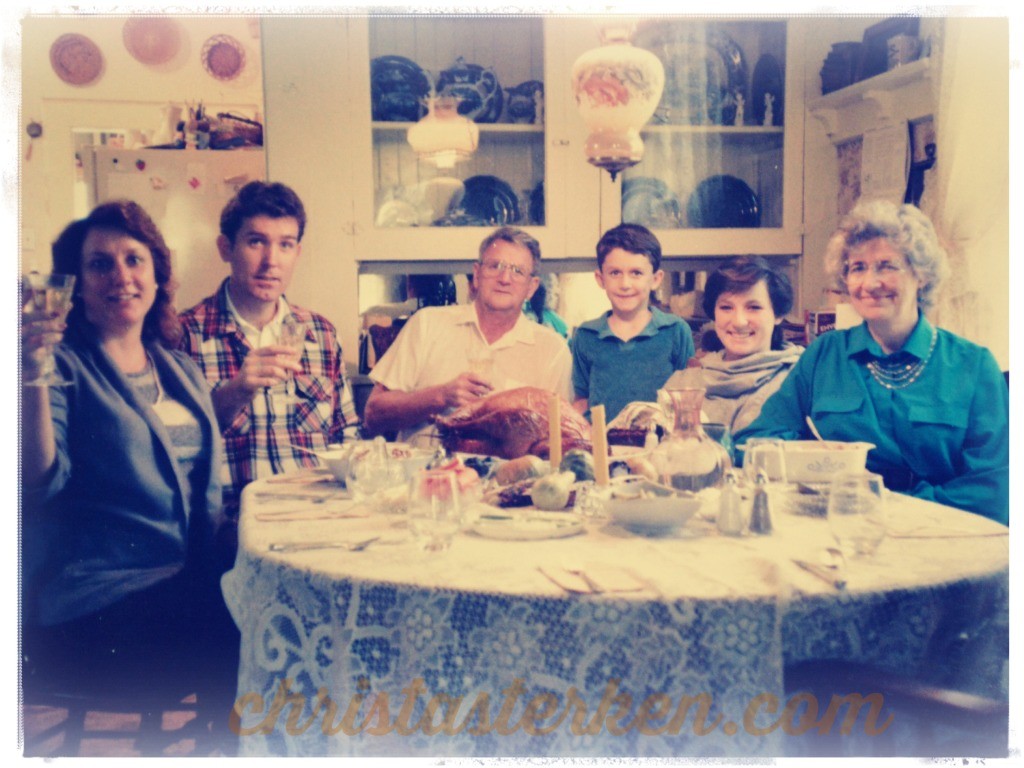 This is the table I grew up celebrating at. My grandparents house. What memories this brings back for me. Much of our family is absent from this picture, but there would usually be my cousins and I hanging outside. My aunts would help my mom and Grandma in the kitchen.
My favorite Thanksgiving memory is when my Aunt Kathy came home from college. I missed her terribly when she left. Being only 11 years older than I, she was a big part of my life. She brought home a belated birthday gift for me; a red duffle bag filled with Hello Kitty things. A tiny keychain address book. Lip gloss.
And, for the nieces and nephews, a craft. Turkeys made from apple bodies, marshmallow legs on toothpicks, raisin eyes. We laughed and created.
Leave a comment and tell me about your favorite family celebrations. What made them special?
Seems like aside from people, food tops the charts for memory making. My great Aunt Bertie shared this variation on a traditional pumpkin pie. I hope you like it, the happiest of days to you. No matter how you spend them, I wish you well.
Pumpkin Chiffon Pie

1 envelope Knox unflavored gelatin
3/4 c packed dark brown sugar
1/2 tsp. salt
1/2 tsp. nutmeg
1 tsp. cinnamon
1/2 c. milk
1/4 c. water
3 egg yolks
1 1/2 c. canned pumpkin
3 egg whites—reserved, along wit 1/4 c. reserved sugar

Mix first 5 ingredients in the top of a double boiler. Stir in the other ingredients and mix well. Cook over boiling water, stirring occasionally, until gelatin dissolves and mixture is heated (about 10 minutes). Remove from heat, chill until mixture mounds when dropped from a spoon.

Beat 3 egg whites until stiff in another bowl. Beat in 1/4 c. sugar and fold into gelatin mixture.

Turn out into 9″ baked pie shell, chill until firm. Just before serving it is best topped with real whipped cream