Bathrooms, one of the most used, yet neglected rooms in our house.
When we moved into this house, it was one of the projects I dreamed of tackling. That was years ago, and other projects just ranked higher.
Yet every time I used it, I wished it could be prettier. Welcoming and clean feeling for guests.
It all started a few weeks ago with a sink. My husband and I were near an IKEA and dreaming of redoing our little room.
We saw something that made this update a possibility, it started with a clearance sink…
I wanted to share a bunch of pictures and tips that can make this update more affordable. And, what we learned the hard way that cost extra, so hopefully you can budget  realistically.
To a casual observer, it looks "okay".  Trust me,there were some issues. The sink, and linoleum were dated. And, well, brown. If you know me, then you also know I LOVE bright colors. Brown brings me down.
It wasn't installed well, and the vanity was damaged from water overflow. The caulking along the sink was beyond cleaning. The worst part, aside from its three colored tank, base and seat, was the toilet base. No matter how much I cleaned, this grime just kept coming. The toilet had issues. Ahem.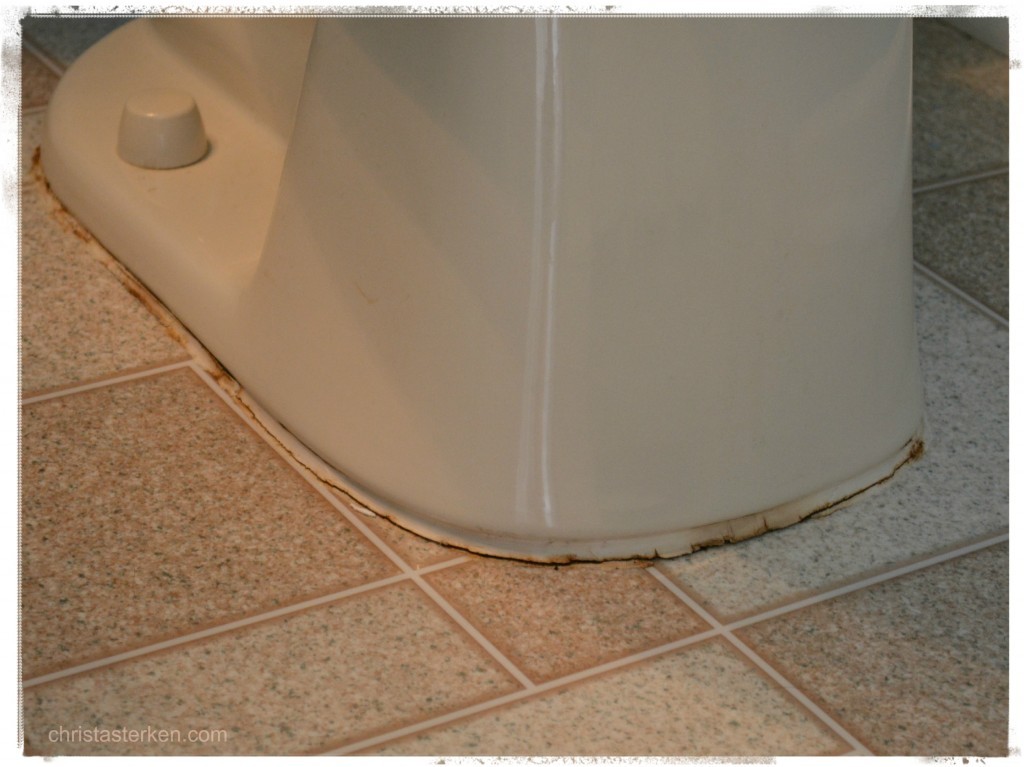 The sink enamel was coming off exposing metal (sharp) edges around the drainage holes, and the faucet was getting increasingly difficult to turn on and off.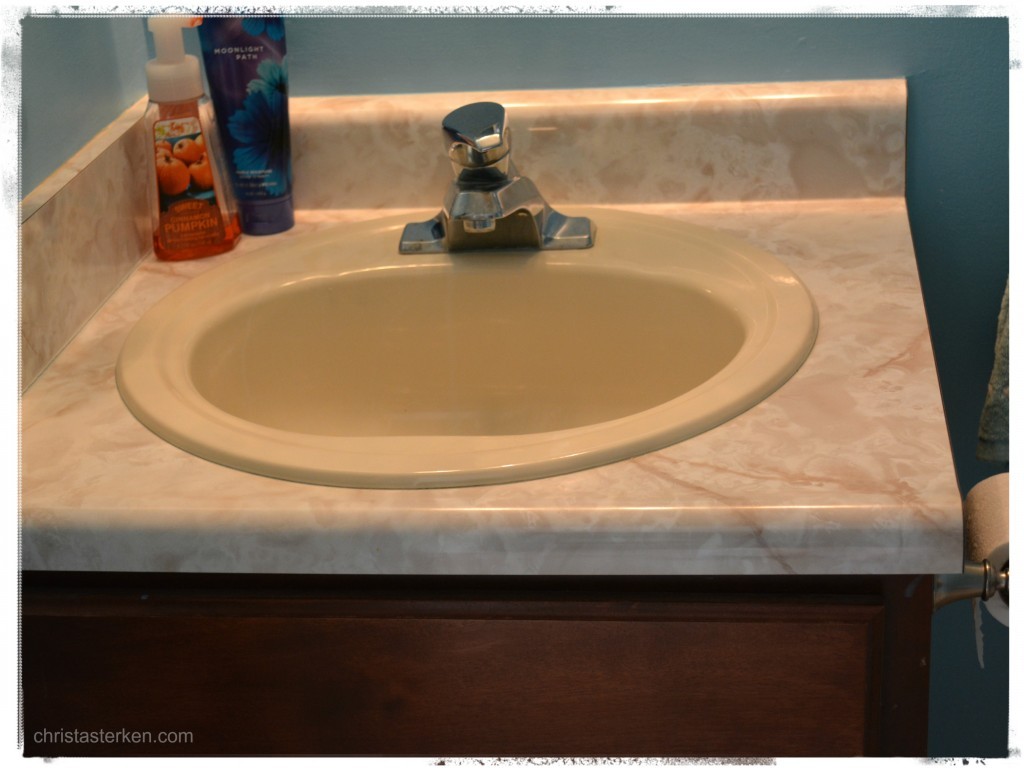 Home improvement seldom fits our budget, except for "as needed" issues. While browsing IKEA, on the way out we passed the "AS IS" section. Cha-Ching!
The exact sink my husband wanted was on clearance, along with the right size vanity. There was only one of each…marked as damaged.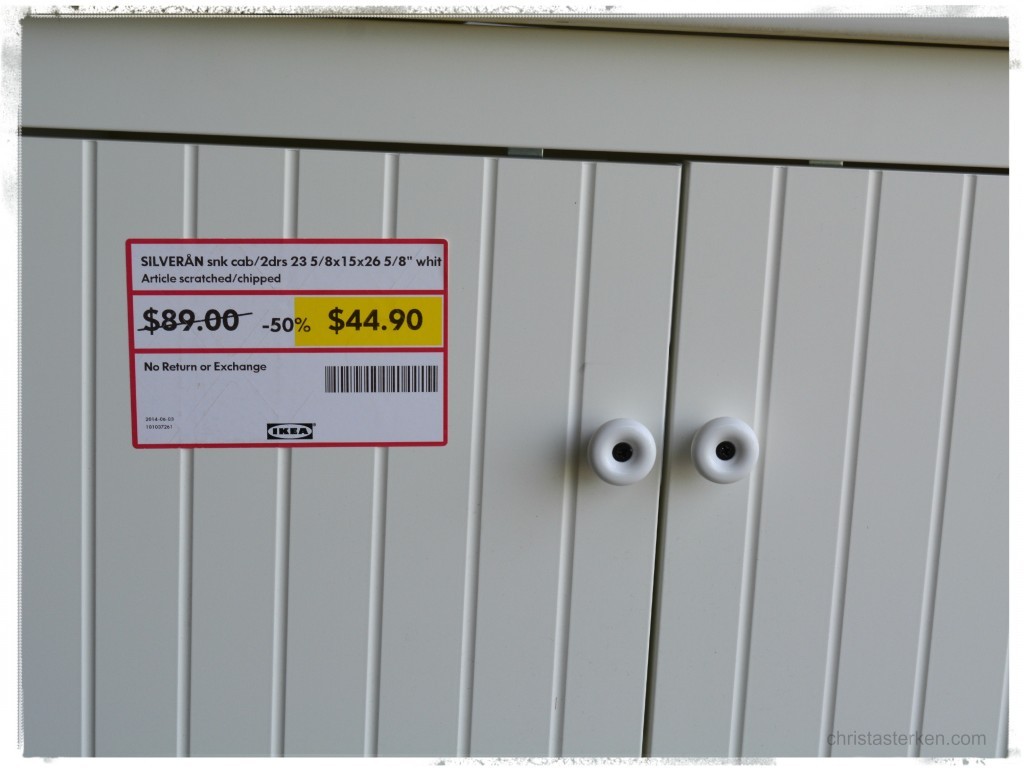 The sink was marked down 60%, from $100 to $39.90. The vanity was marked down 50%, from $89 to $44.90.
Suddenly, our dreaming  was priced right to become reality! If you are budget minded, you might chuckle in appreciation, that this became our anniversary present to each other.
Nothing says romance…
We saw no obvious damage, we snatched them up. The other funny part? We were out of town for a work trip and had a rental car. It hadn't crossed our mind how to get them home until after we checked out. No returns.
So, we finagled the vanity into the trunk, and the sink and our suitcase drove home companionably buckled into the backseat. I can imagine how that looked as we drove home!
Let's get to the tips!
1.  Never pay full price if it can be avoided. This stuff is expensive! For less than $100 we bought the sink and a vanity. Check your area stores for sale rooms. Ask if they have a scratch n' dent section, even if you don't see one. They often sell floor models, or the last of a model for substantially less.  Our home improvement stores sold toilets for $129 + to almost $300. We found a basic model at Costco for $79!
2. Paint is your friend. Anything can be made more beautiful with color, and paint is comparatively cheap to other DIY ideas. Don't forget to check the home improvement stores first. They have cans that people returned, or were mistinted. We have found many cans for deeply discounted prices. This color we paid full price for, as we had something specific in mind. The color in the "before" was a mistint. It took about half gallon to paint this room.
3.  Add interest with beadboard. If you aren't familiar with this, look at the bottom half of the wall in the "after" picture.  It comes in sheets, and you nail it the wall above your baseboard. Topped with inexpensive molding, it changed the look dramatically, while covering up any drywall issues behind it. In our room, we only painted halfway down, no need to paint what won't be seen.
4.  Consider Peel and Stick flooring. I know, it has a bad rap, but undeserved I think! We have changed the look of several rooms over the years, which would have been financially impossible without them. Tiles generally start at about $.60 each, the ones we used were $1.12 per piece. It looks beautiful and we didn't want to invest money, someday we hope to make the connecting rooms have one uniform look. Until then, this covers the dates linoleum with a fresh look.  Make sure the floor is very clean before you begin.
The tips to avoid costly mistakes:
1.  Be prepared!  While we saved big money on the main items of the room, we did  NOT account for one important thing. The faucet. They are pretty spendy, and our error was that we didn't consider this particular sink had only one hole. I had wanted a two handle spout (which were MUCH cheaper). This committed us to having to purchase a single hole faucet as a price we didn't want to pay. Ouch. Spaghetti and casseroles for dinner in July to fix that mistake- know what you are committing to.
2.  Allow for surprises expenditures.  In spite of our other savings, there are always things that will go wrong. For example, we needed extra plumbing supplies that we couldn't have anticipated until it was being put back together. Our other miscalculation involved the height of our sink. We loved the modern look of the vanity being off the floor, but didn't consider that we had just created a lack of room for the mirror we had to fit.  One fun thing about updating a room, eclectic style means anything goes. You can find a mirror or accessories in almost any finish and paint them to coordinate.
The bathroom took three days to complete. My sincere thanks to my sweetie who worked on it all while the girls and I were out of town. He is awesome.
We both are thrilled with the outcome. The design was inspired by the glass floats and the lighthouse picture, both sentimental to me. We think it turned out great!
Personal, updated, modern.  And except for our own mi$take$, economical for a complete room redo!