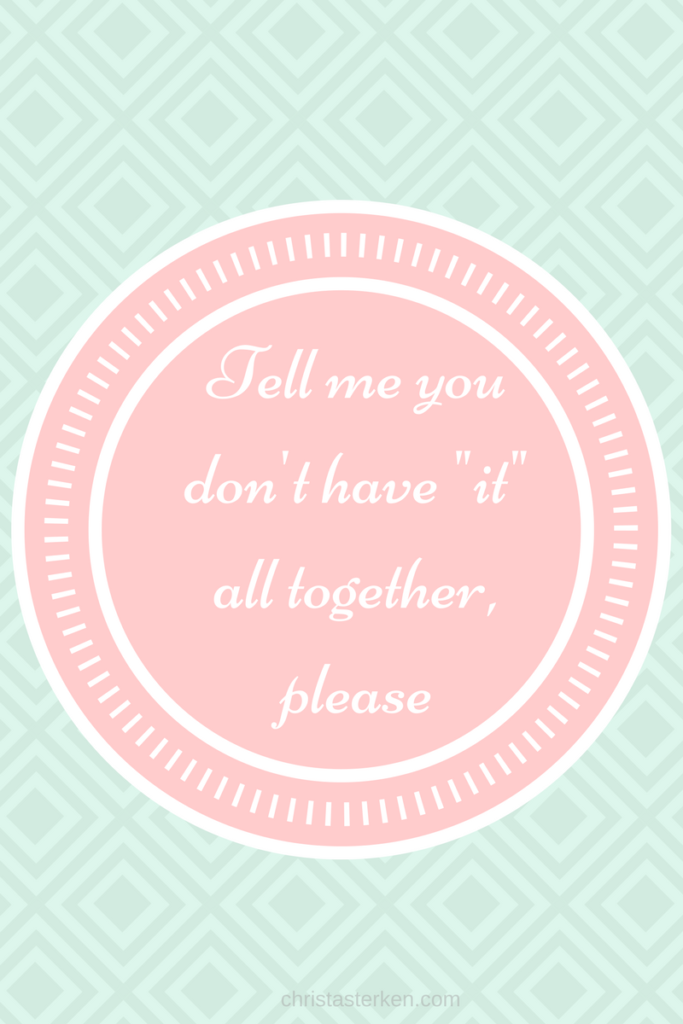 Uh-oh.
I received a very disturbing comment from a friend today. She told me it always looks like I have it all altogether.  Apparently, she doesn't read my blog, or she would know how untrue that is.
She hasn't asked my kids what it is like to live with someone who nearly every day asks, "What day is this? Where are we going? Does anyone know why I came in this room? Did I happen to say out loud who I was going to call when I picked up the phone?"
She doesn't see the piles of unfiled papers or unused planners or me falling to my knees crying out, "Oh the humanity!"
Ok, maybe I haven't done that yet but you certainly understand that desperate feeling of behind.

She forgot that I never return phone calls and get panicked by my undone to-do lists, rewritten them with different dates. Only to ignore them and try again. Or toss them.
She sees a sweet spirit and sense of fun. A smile and casual approach and a creative life.
What is it about human nature that we see only the shiny parts of people who seem to have a grip on life?
I do have a "lot" together. Lord help me if I ever think I have it "all" together.
We know, that if we really thought things through, we would know that isn't even close the truth. There will be seasons where the gears shift smoothly and the piles are tidily arranged.
Our Goodwill piles overflow and dinner is on the table most nights. Books will be read and we lovingly talk to the children. Our arms are wide open for our partners with smiles on our faces.
Other days, maybe most days, life doesn't look a whole lot like that
We keep stepping over the pile of things to carry upstairs instead of putting it away, we miss that doctor appointment that has been on the schedule for 2 months, the books we read are only about How To Be A Better _____, and we wonder if this is normal.
How the other people we know live…
We might imagine that writer has 10,000 blog followers and still wins parent of the year award every day. Not likely.
We picture that celebrity who has enough money to pay the bills being happier. Money doesn't buy contentment.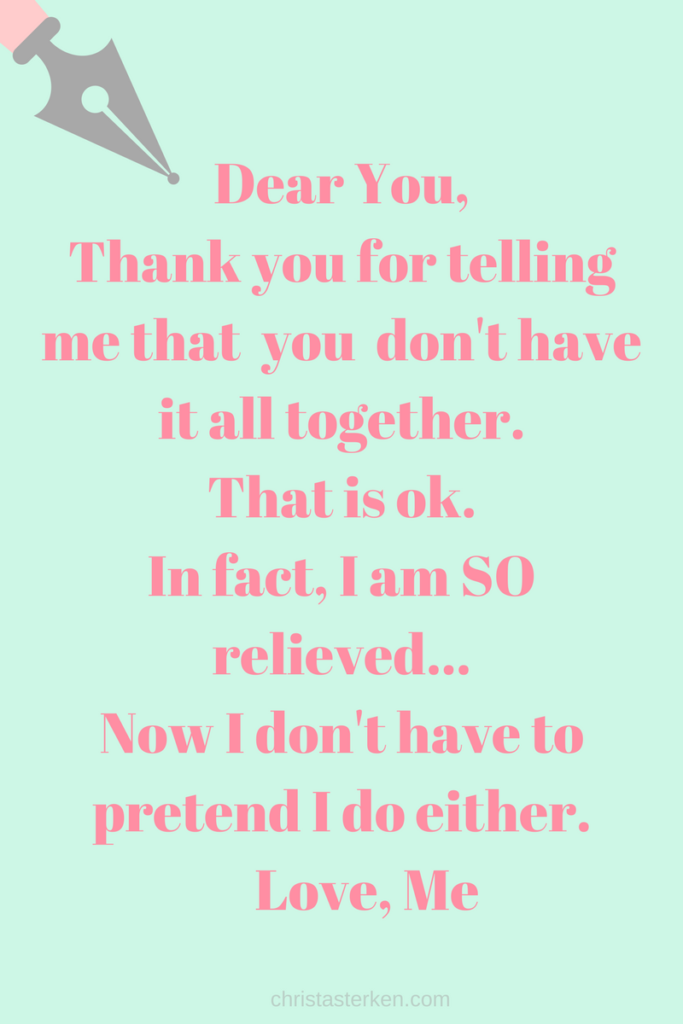 We look at the friends who always have their appearance stylish and spot on and think she/he must feel so confident!
Or, they are hiding their insecurities hoping we won't notice. Or praying that we will, and that we'll ask and care what the answer is.
Things are not what they seem to be upon first glance. My sweet friend? There is one thing I hope she doesn't do, compare.
Let's not glamorize each other
It is a beautiful thing to see the best in each other, we can do that with joy. As long as we don't put anyone on a pedestal. That is a long way for someone to fall.
Let's choose to be the best we can be.
Let's give ourselves some grace when we fall. Because we will. And that is ok, it really truly is.
Click To Tweet
Big deal, we don't have it all together. I am going to celebrate that fact, I sincerely hope you join me.
Your turn- Do you want people to think you have it all together, or be seen with imperfections?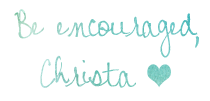 Ready to embrace an imperfect life? Get your free 5 day Happiness Challenge, with easy to incorporate tips direct to your inbox, shifting your perspective from overwhelm to amazement. Plus, a bonus printable checklist!
Subscribers also receive exclusive material-all designed to help YOU pursue a life well-lived.