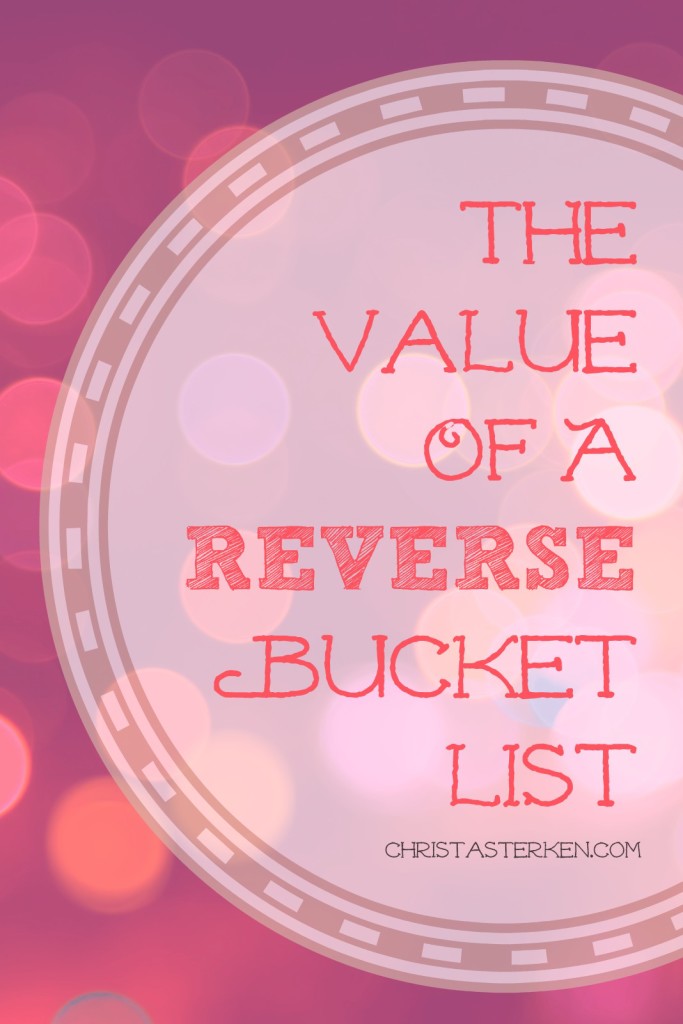 I used to like the idea of making a grand bucket list. Things I hoped to do…someday.
Recently I came across the list I'd made as a younger woman. It chronicled the dreams and aspirations of that young wife and mother.
The older I get the more I reject the whole bucket list concept. I don't want to focus so much on the future that I forget what is quickly becoming my past. Click To Tweet
It was fun to read those zany ideas. The simple ones. Especially the ones that seemed forever out of reach.
But that list wouldn't accurately fit my dreams anymore. 
When I read about reverse bucket lists, that concept struck me as brilliant.
Don't get me wrong, I am still dreaming about my future.
But— I am much more interested to see where I've been. What I've learned or seen or experienced. The things that have shaped me into the woman I am today.
This point struck home for me when working on my goals for the New Year. A question stared at me from the blank page on my desk:
List your accomplishments
I stared and struggled and finally, tearily asked my husband for his perspective.
There didn't seem to be one single accomplishment that was list worthy. I know that I have accomplished much in life, things that I am proud of and humbled by.
Yet, they are not things, by the world's standards today, that seemed appropriate for the question. Because I knew that the precious treasures that mark my life are things like learning to conquer poor self-image, growing a healthy marriage, raising kids with character, homeschooling…
I wondered if those spaces on my page were reserved for things like graduating college, going on a mission trip, traveling the world. Or my bigger dreams of decorating women's shelters or feeding every homeless person I passed.
So I sat with my husband. Questioning. He was genuinely surprised!
What about _____, or _____?" Those things are your life's work. What about having a blog and taking pictures? Those things matter…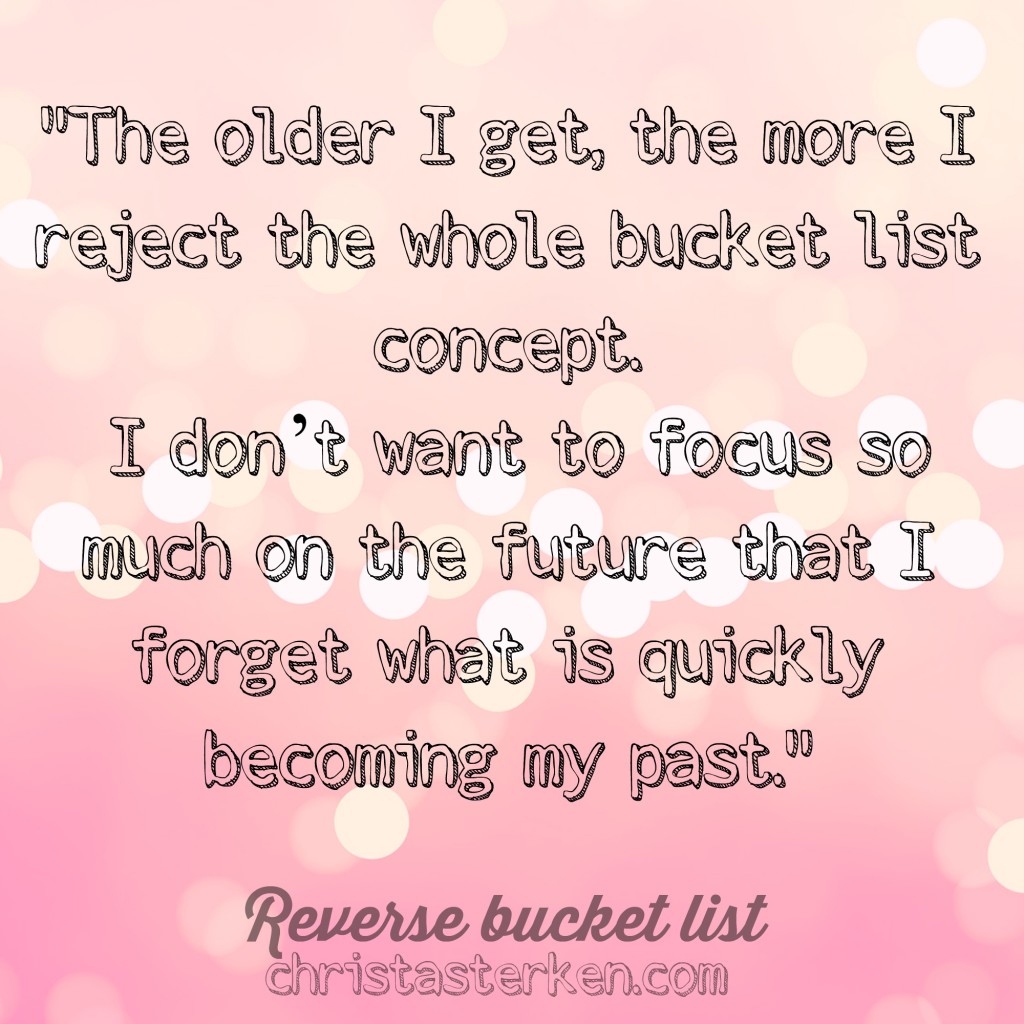 What a difference perspective makes, eh?
A bucket list doesn't take into account all the wonderful and unique and even heartbreaking experiences that create a life well lived.
Today, craft a reverse bucket list with me. List the things that have already happened.
I celebrate a life of participation and observation. The value of a reverse bucket list? We are celebrating those things that are already personal accomplishments.
For me:
Etc. Etc. Etc.
I would still like to see the Aurora Borealis and photograph the architecture of Europe. To do a road trip across the entire United States and stop at the dorky stuff like Giant Balls of String (and take pictures).
I want to run across the bluffs with the wind blowing against my face as I hear the waves crash in Ireland (I'm wearing a sweater and can hear sheep bleating in the pastures)…then I'll stop at every pub and engage the locals in conversation.
Dreaming is good.
Embracing the life we are already gifted with? That, my friends, is amazing. Share in the comments what you've already accomplished?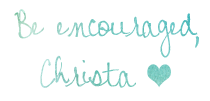 Ready to embrace an imperfect life? Get your free 5 day Happiness Challenge, with easy to incorporate tips direct to your inbox, shifting your perspective from overwhelm to amazement. Plus, a bonus printable checklist!
Subscribers also receive exclusive material-all designed to help YOU pursue a life well-lived.